Want free stock? Here's how to do it in 4 easy steps.
Today I want to talk about a investment company called Robinhood, or Robinhood Financial LLC to be exact. Lately they have been running a promotion which gives away publicly traded stock like Apple, Ford, Spring and Chesapeake Energy for free if you sign up through a link such as this one.  After using them, I can assure you that, just like their namesake, they actually do give to the poor (although I have not looked into the robbing from the rich part.) They also won the 2015 Apple Design Award.
First off – let me just say Robin Hood kept their promise to give me free stock when I signed up my friend and a couple family members through my link – and sure enough, the company added shares of stock into my Robinhood account. (Here's a screen grab showing the 3 shares of stock I earned) Note the dates when my friends were invited, and the stock I received. So far I have received 2 shares of Sprint and 1 share of Chesapeake Energy – worth approximately $15 at the time of this post – not bad for simply sharing a link!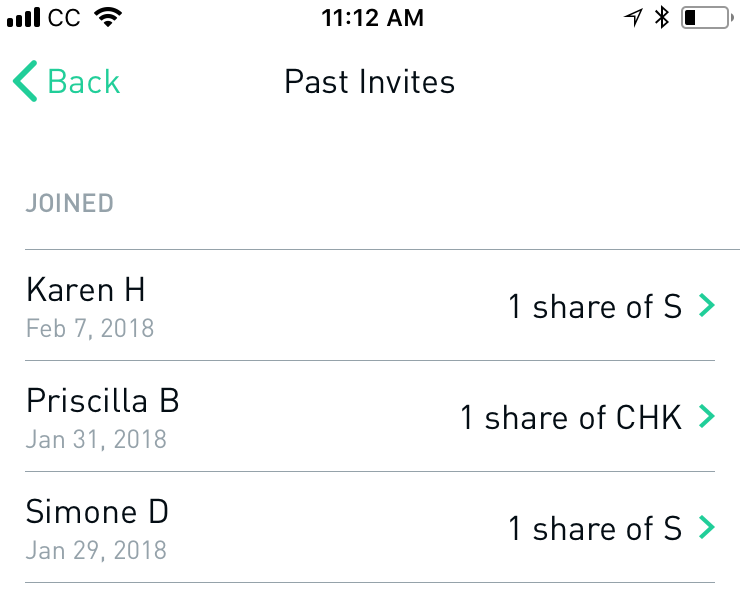 Robinhood is US based brokerage that, for the time being, only allows trading via its mobile applications which you download for Android or iPhone/iPad.  According to their website they allow their customers to "Invest for free" and they "…believe that the financial system should help the rest of us, not just the wealthy." They offer zero commission trading (yes, that's a zero – as in free – as in $0.0 cost) – a pretty disruptive game play as far as competing against the Ameritrades of the world.
If you have yet to start saving for retirement this is a great way to start. Zero commissions and fees will save you lots of money in the long run – money which can be invested in stocks instead. As most investment companies charge $8 to $12 to do a trade – people who trade a lot can save hundreds to thousands of dollars a year through Robinhood.
Here is all you need to do to get free stock.
1 – Click this link to sign up Robinhood
2 – Fill out their simple registration form.
Signing up is easy and should take no more than a few minutes. Keep in mind this is a investment company and, just like Merrill Lynch, Scottrade, Ameritrade and other investment companies they will ask you for necessary information in order to set up your account.
3 – Wait for your stock to arrive in your account
(Usually within 24 hours – sometimes less, sometimes more)
Robinhood will let you know when it has arrived by contacting you through your email. All you need to do to get it is to sign into the application and claim it.
4 – Want more stock? Go to the Robinhood "Free Stocks" section and share, share, share!*
Every time you successfully sign up a qualified customer through your affiliate link, you (and your contact) will each get a free share of stock. *Until Robinhood ends this promotion of course.