Seriously though…. I love her art so you should too. I call her Carrot… I have my reasons! I would put a photo of her next to the art…but I don't want my server to crash from all the traffic it would no doubt generate.
Now go to her site and buy her art!
You are still here?? I SAID GO BUY HER ART!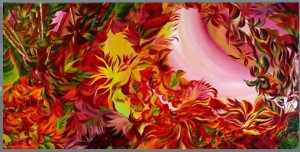 Hmmm….My website administrator just informed me that actually, traffic is a good thing, so I have hesitantly decided to include her photo. Just – for Gods sake – focus on the artwork, and don't you dare buy it just because she makes you stutter and feel weak. Her w-w-w-w-work sp-sp-speaks for it-s-s-s-s-elf.. Whew..I'm going to take a nap.