Alphonse Mucha Czech Art Nouveau Letem Ceskym Svetem
Posted on March 17, 2010 by admin in Really, Really Neat Stuff.

While I am on a incredible art theme… check out this Czech book with an Alphonse Mucha cover!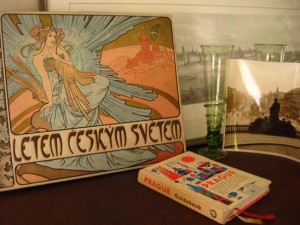 In the late 1800's, Alphonse Mucha graced the cover of this beautiful tome showing dozens upon dozens of incredible buildings and locations throughout what is now the Czech Republic. Approximately 10 years ago, a second "edition" of this was made by another photographer (what.. it could have been the same photographer!) where they went around to photograph the same exact spots at the same angle. This new edition made demand for the old edition quite high!
Very scarce!